How do I invite people to a football pool?
Once you have finished setting up your pool, you are ready to send out your invitations!
This is the screen that you will see until the first poolie has joined:

When you click on the "Invite Friends" button, you will be taken to the Invitations page (under the Invites tab).

---
On the Invitations page, you have 2 separate Invite methods to choose from:
Shareable Invite Link

- Can be used an unlimited number of times, therefore it is ideal to use for copying and pasting into a mass email or sharing in a social media post.
- Do not use if you want to limit the amount of teams that poolies can create
- Do not use if you want your pool to remain private to select poolies
OR

Personal Invite Link
Use this Invite method if you want to individually invite poolies. The Personal Invite Link cannot be used more than once.
You build your "Invites to Send" list by either choosing Poolies from past pools that you have run AND/OR typing in Email addresses that you want to send to and Adding them to the list. These images show you how:
1. To choose poolies from a previous pool, ensure you have selected the "Poolies" tab and then selected the proper previous pool from the pulldown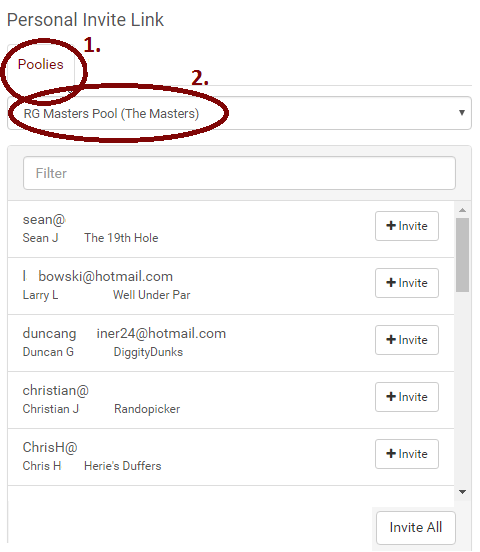 2. To select which poolies you want to send Invites to, click the "+ Invite" button


3. To add poolies that haven't participated in a past pool, click on the "Email" tab, type in the email address(es), and click "Add"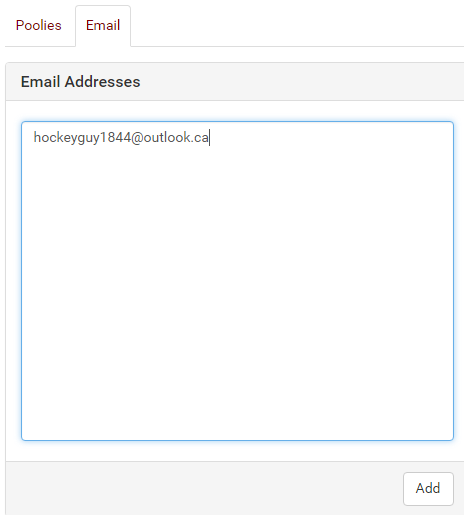 4. Once you have built your list, you can enter in a comment if you like. You must tick the box for the CASL agreement. And finally, hit Send.