How do I enter and pick in an Oscars pool?
After you have been invited to an Oscars pool, you can follow these steps to enter your team and make your picks after you have clicked on your Invite:
1. Enter the name of your entry
2. Whether or not you want an email update with results (default is Yes)
3. Whether or not you want an email reminder to make your picks prior to the event (default is Yes)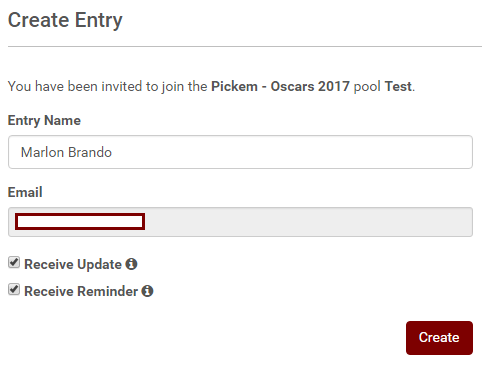 Once you hit the red "Create" button, you will be taken to the Make Picks page
---
To make picks, simply click on the movie poster of your choice. You will select one winner for each of the 17 catagories. You will have up until the start of the event (5:00 PM Pacific/8:00 PM Eastern on Sunday, March 4th, 2018) to Make/Edit picks.
If you want to edit any of your selections prior to the start of the Oscars, simply click on the Pick icon (example below) located above your pool standings (or click on your team name on the pool standings).